HP Launches World's Most Advanced Metals 3D Printing Technology for Mass Production to Accelerate 4th Industrial Revolution
Source: HP Press Center
September 10, 2018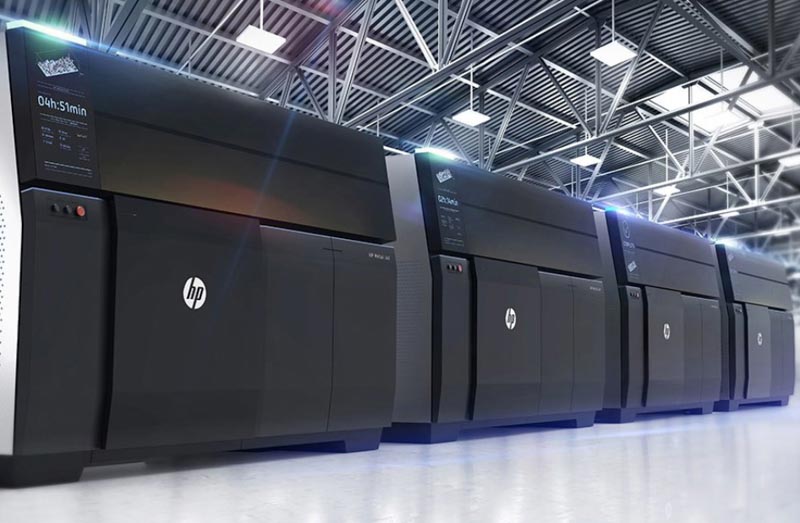 HP Metal Jet up to 50x more productive, delivering low-cost, high-quality final parts;
New Metal Jet Production Service opens up world of applications to global customers;
Partnerships with GKN Powder Metallurgy, Parmatech, Volkswagen, Wilo and more
News highlights:
New HP Metal Jet technology delivers mechanically functional final parts with up to 50x more productivity than other 3D printing methods and at significantly lower cost compared to other binder jetting systems
Metal Jet Production Service to fill orders for production-grade final parts beginning in 2019
HP Jet Fusion 3D 300/500 series enables concept prototyping as well as short-run production for end-use products
Reinventing factory production for auto, industrial, and medical industries; New partnerships with GKN Powder Metallurgy and Parmatech to produce Metal Jet parts for Volkswagen, Wilo, and more
Chicago and Palo Alto, CA – September 10, 2018 — Today at the 2018 International Manufacturing Technology Show (IMTS), HP Inc. launched HP Metal Jet, the world's most advanced 3D printing technology for the high volume manufacturing of production-grade metal parts. Providing up to 50 times more productivity1 at a significantly lower cost2 than other 3D printing methods, HP Metal Jet is being deployed by manufacturing leaders GKN Powder Metallurgy and Parmatech for the factory production of final parts. Customers placing orders include global stalwarts Volkswagen and Wilo and innovative vertical market leaders such as Primo Medical Group and OKAY Industries.
As part of its mission to transform the way the world designs and manufactures, HP today also launched the Metal Jet Production Service3, enabling customers around the world to rapidly iterate new 3D part designs, produce final parts in volume, and integrate HP Metal Jet into their long-term production roadmaps.
HP Metal Jet is a groundbreaking, voxel-level binder jetting technology leveraging more than 30 years of HP printhead and advanced chemistries innovation. With a bed size of 430 x 320 x 200mm, 4x the nozzle redundancy and 2x the printbars4, and significantly less binder by weight, HP Metal Jet delivers greater productivity5 and reliability at a low acquisition and operational cost6 compared to other metals 3D printing solutions. HP Metal Jet will start with stainless steel finished parts, delivering isotropic properties that meet or exceed ASTM and MPIF Standards7.

Open a new window to read the entire story on the HP website.