Pepsi Chooses HP 3D Printing
Source: All3DP Magazine
By Hanna Watkin
5/29/2018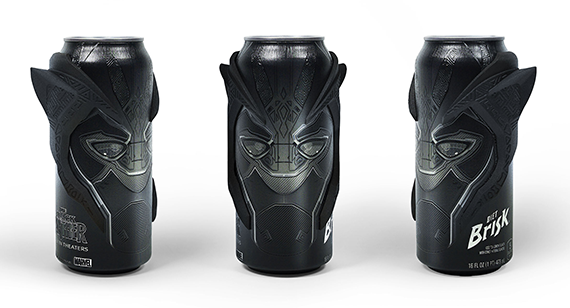 In a unique marketing campaign for the superhero movie Black Panther, Pepsi partnered up with the manufacturing service provider Protolabs to create a collectibles kit that featured five special edition soda cans fitted with 3D printed Black Panther masks.
Right in the nick of time for the last month's premier of the renowned superhero film Black Panther, Pepsi enlisted the help of Protolabs to 3D print a limited-edition promotional collector's item. The kit, which features five cans that represent each of the movie's main characters, is fitted with a special 3D printed Black Panther mask.
Aiming to develop and produce 250 complex masks as quickly as possible, Pepsi decided that creating molds would be too expensive. Therefore, they turned to the professional-grade 3D printing service provider Protolabs to create the detailed designs.
"Much of this kit was inspired by the costumes and characters from the movie. This was an exciting opportunity for us to incorporate new technologies to develop unique textures, graphics, dimensional elements, and lighting to bring the kit to life," says Andrew Phinney, an R&D packaging engineer at PepsiCo.
Testing 3D Printing Processes for the Perfect Pepsi Panther Mask
The team considered using a number of 3D printing technologies, including SLS, SLA, PolyJet, CLIP technology from Carbon and Multi Jet Fusion, but finally settled on just a couple to actualize their unique concept.
At first, they utilized fused deposition modeling (FDM) machines to create the initial prototypes of the masks. They added some modifications to ensure that the design worked with the picture on the can and that it would remain secure during shipping. For the final product, Multi Jet Fusion technology was used to create the final parts.
As the flagship technology for HP's impressive 3D printer line, Multi Jet Fusion was chosen due to its ability to provide a high quality surface finish and resolution, while also keeping production prices relatively low.

Open a new window to read the entire story on the All3DP website.